St. Pius V Celebrates 100 Years
On Feb. 27, 1921, Bishop Michael Curley, the fourth bishop of the Diocese of St. Augustine, dedicated a joint church and school on the corner of State and Lee streets and named it St. Pius V Catholic Church. One hundred years later, St. Pius V Parish, now located at 2110 Blue Avenue, is a thriving community with 145 parishioners and families.
The parish has several centennial events, including dinners, Masses, a historical exhibit at the Ritz Theater, a gala in August and more. All of which culminated in a grand celebration Mass with Bishop Felipe Estévez, Father Bernardine Eikhuemelo and Msgr. James Boddie on Saturday, Sept. 25 at 11 a.m.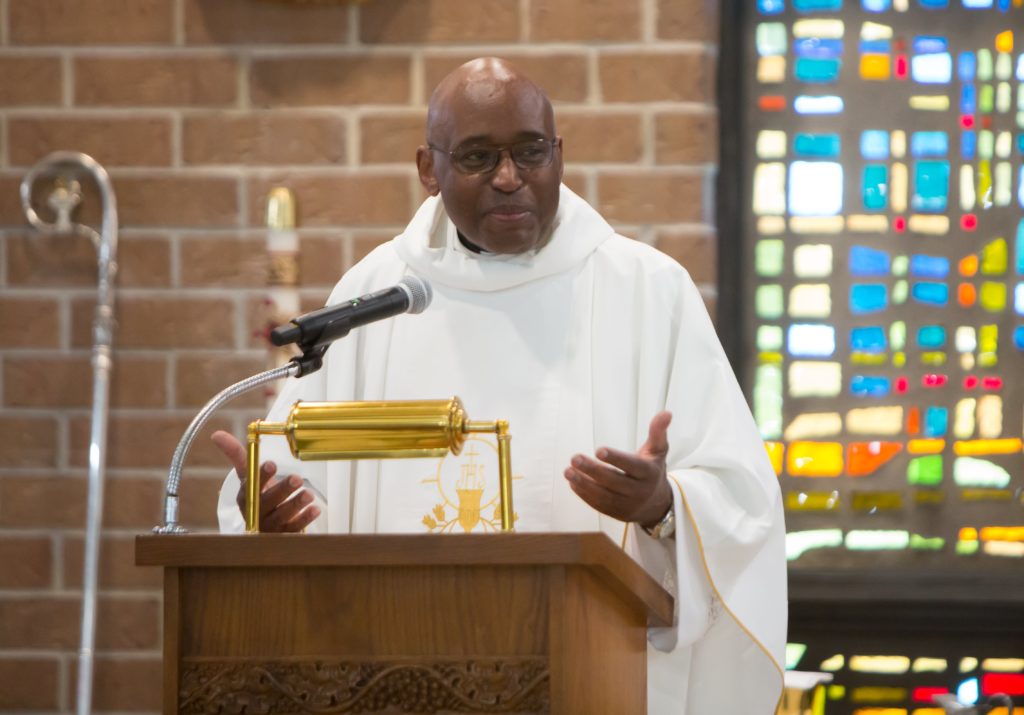 In his homily, Msgr. Boddie recalled the challenges the St. Pius V community overcame over the past 100 years.
"As we celebrate 100 years of the Catholic church in the Black Catholic community in Jacksonville, we notice that these 100 years describe a history of fighting for equality and justice, fair housing, against segregation in schools, stores and restaurants and for interaction in all places," he said. "Everything is possible with God, that despite social tensions and injustices, the faith community of St. Pius V never gave up their Catholic faith."
As a result of the growing Black community in Jacksonville in the early 20th century, the idea for St. Pius came about when a group of parishioners approached Bishop Curley after enduring generations of second-class status at Jacksonville's only parish at the time, Immaculate Conception. Black parishioners could not fully enjoy parish life; their children could not be altar servers, nor were the adults allowed to serve in the choir.
The first parish Mass was celebrated in 1919 at Immaculate Conception School, with only 47 people present. The diocese soon bought a half city block on State and Lee streets for $12,000 and built a church for $55,000.
In the late 1950s, the area around State and Lee streets began to deteriorate, as did the church-school building. When it was declared unsafe and beyond repair, a large tract was purchased on West 13th and Blue streets. When the parish moved, the parishioners again sacrificed having a church and built a church school dedicated on Oct. 23, 1961, by Archbishop Joseph P. Hurley. That building served the congregation for 20 years, but the parish desired a free-standing church. On Nov. 1, 1981, the third church of St. Pius was dedicated by Bishop John J. Snyder with Josephite Father Robert Bowen as pastor.
In 1978, the parish celebrated the ordination of one of their own, James Boddie, Jr., the first African American man to be ordained a priest in the diocese and the state of Florida. When the Josephite priests withdrew from St. Pius in 1994, Father Boddie was named pastor.
Under the leadership of Father Bernardine Eikhuemelo, pastor of St. Pius V, Crucifixion and Holy Rosary parishes since 2015, the St. Pius V community is thriving with about 175 registered families and individuals who are active in several ministries.
"As a parish over the last 100 years, we can point to many alumni who are excelling in different walks of life, who graduated from the parochial school while it existed," said Father Eikhuemelo. "In the same way, the youth ministry, as well as religious education ministry for the kids, are very commendable in how they have touched and impacted the lives and future of our young brothers and sisters. All these have been made possible by a remarkable level of commitment by parishioners down through the decades."