The Canonical Coronation of Our Lady of La Leche
On Sunday, Oct. 10, history was made as an envoy for Pope Francis canonically crowned the new image of Our Lady of La Leche and the nursing Christ child.
The celebration kicked off on Friday, Oct. 8, with an evening Mass celebrated by Cardinal Carlos Osoro Sierra, papal legate and archbishop of Madrid, and Bishop Felipe Estévez at St. Madeleine Catholic Church adjacent to the Santa Fe Shrine of Our Lady of La Leche in High Springs.
In his homily, Cardinal Sierra expressed how moving the tender embrace between mother and child is in the image of Our Lady of La Leche.
"In that very warm embrace of mother and child, she has something to teach us. First of all, she teaches the greatness of the Lord and how we are to embrace him," he said, adding that she also teaches us how important it is for God to be at the center of our lives. "When we realize what she is saying, she is recognizing that each of us is a child. A son, a daughter of God. And that shared affection is supremely important. Being a child of God makes all things different. And makes our lives completely new and renewed."
On Saturday, Oct. 9, Bishop Estévez and Cardinal Osoro Sierra blessed and dedicated a new Rosary Garden at the National Shrine of Our Lady of La Leche at Mission Nombre de Dios in St. Augustine, which includes a new grotto housing the old image of Our Lady. Masses, rosaries and adoration took place throughout the day at the mission grounds.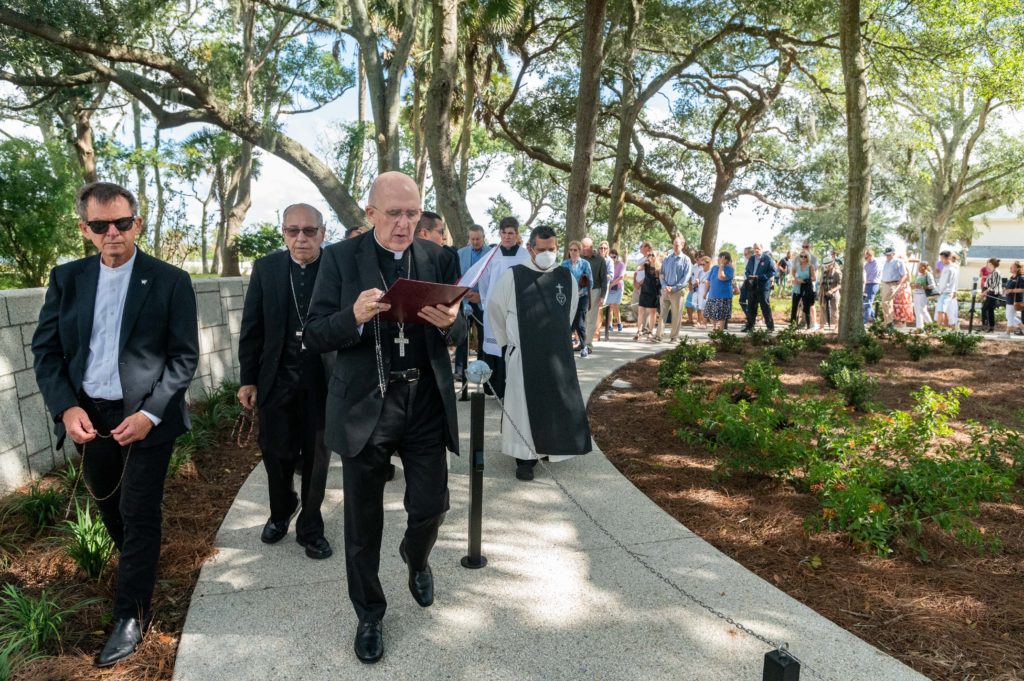 Beginning at 6 p.m., Father Richard Pagano, pastor of St. John Paul II Parish in Nocatee, led a youth and young adult night at the national shrine to celebrate the canonical coronation. Those in attendance prayed a candlelight living rosary, in which each person in a group held a candle representing a rosary bead. Mary Jane Ballou, performed traditional Marian lullabies, followed by adoration.
On Sunday, Oct. 10, people gathered by the hundreds at the National Shrine to watch the livestream of the Canonical Coronation of Our Lady of La Leche from the Cathedral Basilica of St. Augustine.
Many who watched from the shrine are Catholics of the diocese, like Donna Whitehouse Roan, who grew up coming to the shrine with her family and still makes frequent trips with her four children.
"It was truly essential to all of our faiths," she said. "Our Lady is the heartbeat of our diocese. She's central to so many of our vocations and discernment, to draw us closer to her son."
Others traveled from across the state or even across the country to witness the historical event. Elizabeth Roman and Stacy Jamison traveled with friends all the way from Belgrade, Mont.
"We've been wanting to make a pilgrimage together as Catholic women and we feel like Our Lady just led us here," explained Roman. "We didn't even know the coronation was happening until a few weeks before. We're all friends and mothers, and members of the Confraternity of Christian Mothers. We've always wanted to be mothers, and we've always wanted to visit Our Lady of La Leche, and now here we are."
The Cathedral Basilica was filled to capacity with members of the faithful, clergy and special guests, but silence still reigned as Mary Pat and David Kulik, parishioners of Our Lady Star of the Sea in Ponte Vedra and recent papal honor recipients, processed Mary and Jesus' crowns up to the newly carved statue. Cardinal Osoro Sierra gently placed the crowns upon their heads, applause erupted, and he, Bishop Estévez and Archbishop Thomas Wenski of Miami, placed chaste kisses upon Mary's back before blessing the image with incense and bowing in respect and awe.
In the days he spent visiting the diocese, the cardinal recalled witnessing a strong affection and devotion to Mary.
"The spiritual movement that arose in the Diocese of St. Augustine at the beginning of its journey and mission, was to fill the lives of men with God, with the style, the manner and the intercession of Mary. The best service, my dear people, you can do is to fill your life with the same reality that Mary filled it with, full of grace, full of God. Families, bring your children within God's reach. Do it as Mary did," the cardinal said. "The Gospel shows us how to let ourselves be led by God and also how to be children of God, which means living as the Son lived, following him."
At the end of the Mass, Bishop Estévez kneeled before Our Lady. There, he offered a prayer to consecrate the Diocese of St. Augustine to Our Lady of La Leche. Following Mass, the newly crowned statue of the nursing Madonna was taken by motorcar to the National Shrine, where she was adoringly processed by members of the American Association of the Order of Malta, followed by members of the faithful.
Cries of "Viva Our Lady!" echoed across the mission grounds as the faithful watched Our Lady carried over the Michael Gannon Bridge where she was placed in her new home in the Historic Chapel.
Contributing to the story is Jean Gonzalez of the Florida Catholic, and Fran Ruchalski.