Bishop Estévez Leads National Holy Hour for Life, Jan. 21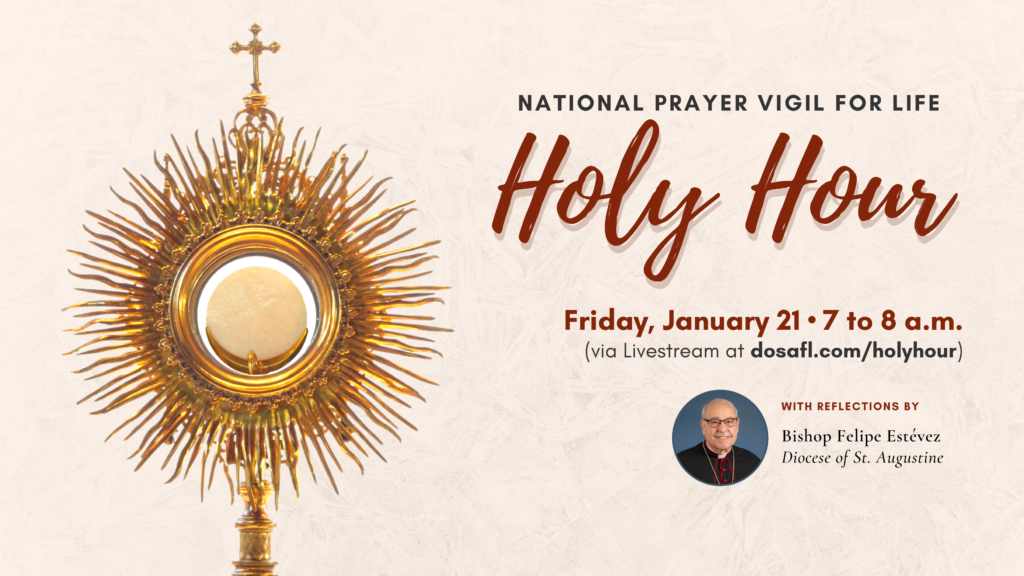 Catholics nationwide are preparing to pray 9 Days for Life, the annual pro-life novena beginning this year on Jan. 19. The Committee on Pro-Life Activities for the U.S. Conference of Catholic Bishops is sponsoring the pro-life event.
Bishop Felipe J. Estévez of the Diocese of St. Augustine will be among several bishops across the country leading a holy hour via livestream, from 7:00 to 8:00 a.m. on Friday, Jan. 21. Joining him at the Catholic Center will be students from St. Joseph Catholic School in Jacksonville.
In the Catholic Church, a 'novena' consists of prayers or actions over nine successive days. This pro-life novena is an opportunity for recollection and reparation in observation of the anniversary of Roe v. Wade – the Supreme Court decision that made abortion legal throughout the United States.
The overarching intention of the novena is the end to abortion. Each daily intention highlights a related topic and is accompanied by a reflection, educational information, and suggested daily actions. The novena encompasses the annual Day of Prayer for the Legal Protection of Unborn Children on Jan. 22.
All are invited to sign up at 9daysforlife.com. Participants can receive the novena in English or Spanish via email or text message or access it online. Participants can share their pro-life witnesses and invite their social networks to pray on social media with the hashtag #9DaysforLife. A resource kit is available and features the daily prayer intentions and reflections, among other materials.
For a full listing of the overnight holy hours across the country, click here. For a full schedule of events, including the Opening and Closing masses, click here. For more information on 9 Days for Life in Spanish, click here.