Gov. James Moore of Carolina attacks St. Augustine, destroying many of the missions in Florida and killing three Franciscans near Tallahassee.
Franciscan Friar Agustín Ponce de León is killed on Sept. 3, in a gun battle with Creek Indians, north of St. Augustine, after they had captured Guale Indians of Mission Nombre de Dios Chiquito. Fray Agustín is the first to be martyred.
General James Oglethorpe attacks St. Augustine.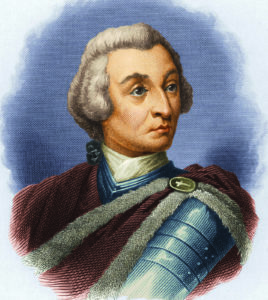 Spain cedes Florida to the British. The Franciscans and secular priests leave Florida, taking with them the parish records, which were stored for 143 years in Cuba. By 1764, no more than eight Catholics remain in the new British colony.
Indentured laborers from Minorca, Italy and Greece arrive to work an Indigo plantation in New Smyrna. They are accompanied by Father Pedro Camps, a parish priest of Mercadal, Minorca.
Minorcans flee the oppression of the Indigo plantation and given asylum in St. Augustine by British Governor Patrick Tonyn. Father Camps is allowed to create a makeshift chapel and Catholic worship returns to St. Augustine after an absence of 13 years.
The American Revolution ends; Britain returns Florida to Spain.
Two Irish priests, Michael O'Reilly and Thomas Hassett, are assigned to St. Augustine. Father Hassett starts the first school for black slaves.
Baltimore becomes the first diocese in the United States.
New church for St. Augustine parish is dedicated.